Empty space, drag to resize
Free Online ASVAB Math Classes
Looking for a free ASVAB tutor online? Get free ASVAB Math Tutoring for specific Arithmetic Reasoning and Math Knowledge topics hosted every week for 2 hours!
Your Free ASVAB Math Tutor: Anderson Duran
B.S. and Master's Degree in Math Education and Curriculum
Your ASVAB Tutor Coach Anderson is a seasoned educator with over 10 years of experience. His classes are successful because he encourages you to ask questions and shows patience to all students, no matter what your needs are.

By joining the online ASVAB classes, you'll be in the hands of the best ASVAB tutor available; and it's FREE!

Join the free ASVAB math classes and see why Coach Anderson is a good fit to be your ASVAB tutor!
How the Classes Work and How to Join
Free ASVAB Group Tutoring Classes are held online once a week, every week (typically on Mondays).

Each free class will be two hours long starting at 6PM until 8PM EST (check your timezone) covering a specific ASVAB Arithmetic Reasoning or Math Knowledge topic.
What to Expect from the Free ASVAB Classes
2 Hour Group Tutoring Classes
Using Your Camera is Optional
Participation via the Zoom Chat Box
Hosted by ASVAB Math Tutor Coach Anderson
How to Use Zoom to Join the Free ASVAB Classes:
1. Download Zoom before class (phone or laptop/desktop).


2. The class link will be sent two hours before class via text and email.


3. Click the class link 5 minutes before class starts and Zoom will open the classroom.


Free Online Class Main Focus: ASVAB Arithmetic Reasoning Help and Math Knowledge Help
If you're blanking out on word problems, struggling to remember formulas, and looking for ASVAB math help online, make sure to register for the Free ASVAB Math classes!

Each of the free ASVAB math classes will cover test-taking strategies and basics you must know for specific Arithmetic Reasoning and Math Knowledge topics before easing you into word problems and challenge questions to try out on your own.

Free Online ASVAB Math Class Topics Include:

General Word Problems

Ratios and Proportion Word Problems

Distance, Rate, and Time Word Problems

Percentage (and Word Problems)

Fraction (and Word Problems)

Geometry (Perimeter, Area, Volume) and Word Problems

Unit Conversion (and Word Problems)

Statistics -Mean, Median, Mode - (and Word Problems)

Probability Word Problems
More ASVAB Help
Try Our ASVAB All-Access Program
The great thing about our ASVAB classes is that there are actually
three classes total every week
. Registering for the free ASVAB classes online gives you access to just one class once a week.
If you want access to all the classes AND the recordings to go along with them, you're going to want to continue with our ASVAB All-Access Program!
It's how our students raise their scores and get the jobs they want.
Click here to see the full program.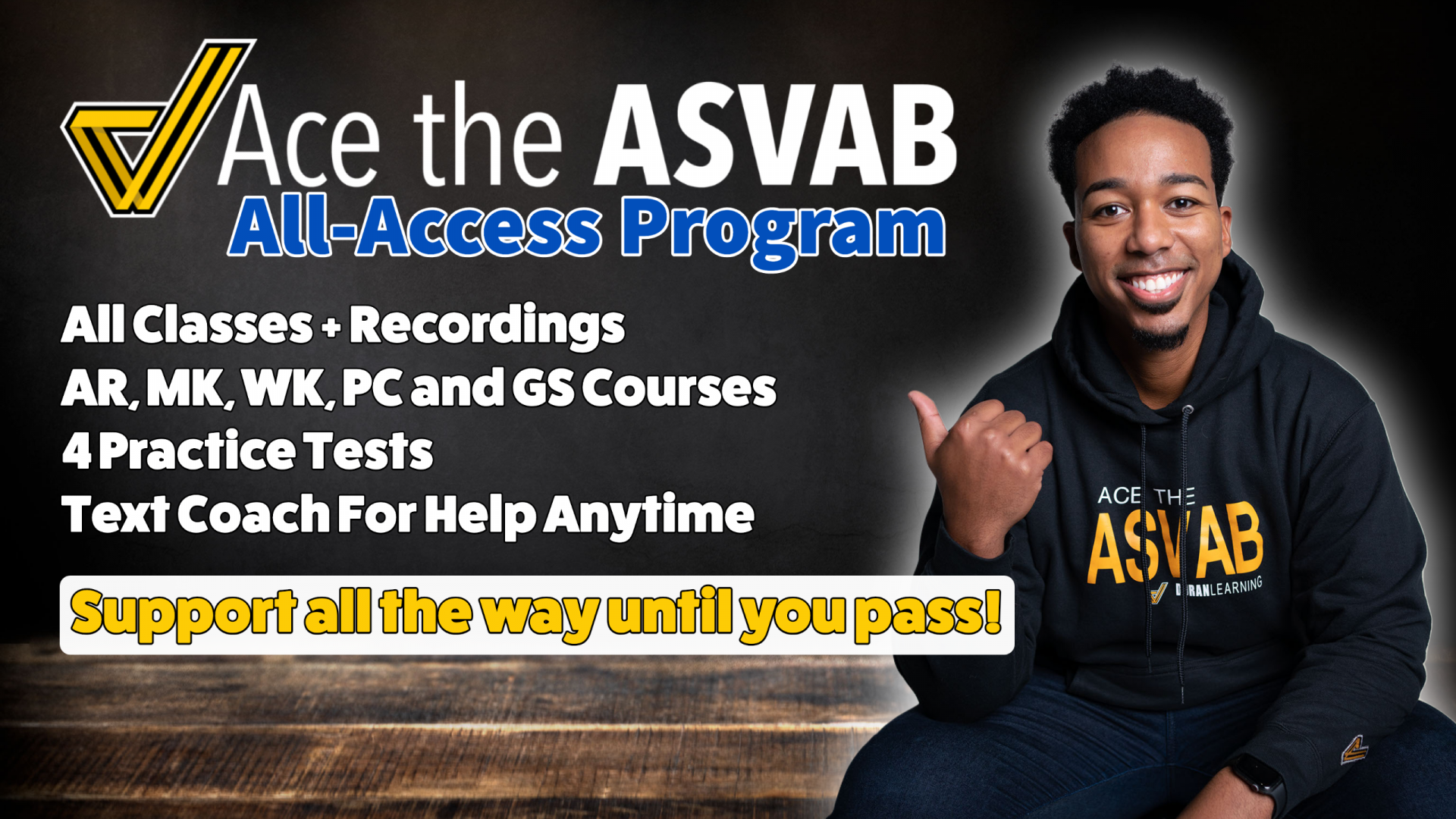 Free Recorded ASVAB Math Help Videos: Classes on YouTube
Want to check out an ASVAB Math Class recording to see the way our ASVAB Tutor teaches? If you go to the Duran Learning channel on YouTube, ASVAB videos for Arithmetic Reasoning help and Math Knowledge help are there for your viewing pleasure! There are over 30 ASVAB math class recordings posted right now!
Getting Started
Best Practices: All-Access Pass
ASVAB Basics: The ASVAB, AFQT, PiCAT, and MEPS Explained